179 Non Sparking Multifunction Drum Wrench
179 Non Sparking Multifunction Drum Wrench
The 179 non sparking multifunction drum wrench has many surfaces and shapes to fit a total of 46 varieties of drum plugs with different sizes. The wrench features a long-lasting, rugged copper alloy construction that eliminates the danger of sparking, which in turn makes it suitable for various potentially flammable or explosive atmospheres.
The product conforms to the Q/ZBF-179 standard. Its unique American-style design delivers highly stable mechanical performance.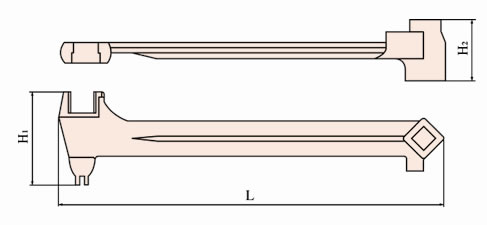 Number
L
mm
H1
mm
H2
mm
Be-Cu
g
Al-Cu
g
179-1002
385
93
61
1250
1150
As well as offering the above specification, we also can custom-make the wrench meet your requirements or design the product according to technical drawings you provide us with.
Related Names
Multi-purpose Drum Spanner for Sale | Socket Wrench on Drum | Hand Tool for Oil Extraction